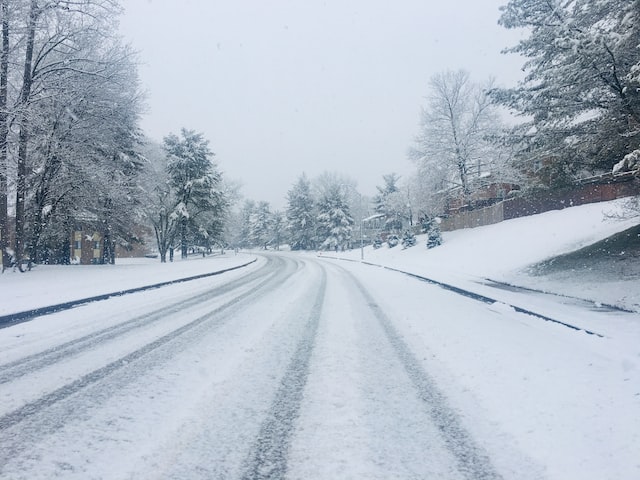 Winter brings challenges for drivers, businesses, and municipalities with snow accumulation. Road hazards are created when ice and snow block visibility, create slick surfaces or form large drifts. Snow removal experts can help drivers avoid these hazards and keep their roads clear and safe for travel.
Businesses can contract with snow removal experts to clear their parking lots and driveways, which will help employees and customers get to and from the business safely.
Alblaster is ready to handle any snow removal job, big or small. Our team is prepared with the right equipment and expertise to keep your properties safe for travel.
Winter Road Hazards and Their Causes
There are several road hazards to be aware of in the wintertime, some are made worse when the condition of the road is poor, to begin with. Here are some hazards that pose a challenge during the winter months.
Potholes:
Potholes are a common road hazard that can easily be dealt with by an experienced asphalt contractor. During the winter months, potholes expand to the point of cracking and becoming more hazardous. Because these holes get filled with snow, they become hidden from drivers. If a vehicle comes in contact with them, they can cause damage to the wheel alignment, the tires, and the undercarriage. If potholes are repaired before winter hits by an asphalt contractor, these hazards can be avoided.
Debris:
Being aware of the potential hazards that can occur after a winter storm is obviously an important part of winter driving. Debris on the road can include anything from natural items like tree branches, power lines and even garbage. Alertness and vigilance are especially critical during winter driving, especially if you observe any debris on the road.
Ice:
Ice, particularly black ice, is a major problem during the winter. It is formed by rain or fog that gets hit with below-freezing temperatures. This type of ice is typically difficult to see, so be sure to check the forecast to predict when you may experience this road danger. There are ways to navigate through it if your car begins to slide, like turning toward the slide and remaining calm. When you encounter black ice, be sure to take it slow. Don't slam on your brakes – that will only make things worse. Instead, try to decelerate gradually. If you have an anti-lock braking system (ABS), use it. If you don't, pump your brakes gently.
Frost Heaves:
Frost heaves are caused by the expansion of water as it turns to ice. This expansion pushes the soil upwards, creating ridges in the asphalt surface. When the snow melts, the frost heaves shrink and degrade the asphalt even more. Repeated freeze-thaw cycles will cause these ridges to become bigger and more pronounced, potentially leading to potholes and cracks in the asphalt. If you see these signs of frost heave damage, it's important to hire an asphalt repair expert to fix the issue before it becomes worse.
The Buildup of Snow and Ice on Vehicles:
It is important to clear all the ice off your car before driving, especially your windows. Winter visibility is bad enough without the added challenge of Snow and ice covering your windows. Clearing off your vehicle before driving will help you stay safe on the road and avoid accidents.
The Roads are Clear When Alblaster is on the Job
Contact the experts at Alblaster for the most reliable and professional snow removal and salting service in the Vancouver area.