Snow Removal & Salting Services Richmond
Keep your customers happy and your business running during the winter by hiring Alblaster's snow removal and salting team in Richmond to attend to your properties 24 hours 7 days of the week!
If you are managing a commercial, industrial, strata or government property in Richmond, BC, we know winter comes with an added responsibility for the safety of those on your property. Slippery sidewalks and snow covered parking lots need clearing and city regulations have to be followed. Richmond's Alblaster Snow Removal and Salting team is ready to take action when the unexpected demand for snow removal and salting happens.
We offer reliable services that are timely and efficient and guarantee high-quality snow plowing services in Richmond, BC that will ensure your business continues to run smoothly. Although your business hours are set, the snow and ice hours are unpredictable, which is why Alblaster's team is available 24/7.
Richmond Snow Removal Services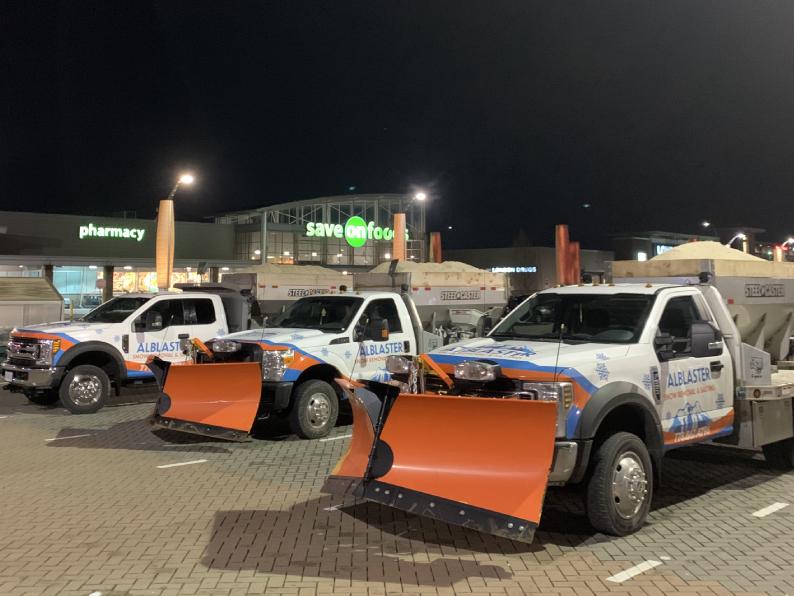 At Alblaster's, our services can accommodate commercial, industrial, strata and government properties, which is why we offer Priority Snow Removal and Salting Services or On-Call Snow Removal and Salting Services.
Either way, Alblaster snow removal company loves challenges, and no project is too big or too small. We have experience removing snow, salting and deicing parking lots, loading docks, sidewalks, commercial plazas, churches, schools and more.
Our equipment is well-maintained and our deicing materials are eco-friendly, which protects your properties, building floors and even your pets' paws!
Richmond Commercial Snow Removal Services
Winter weather is unpredictable, but this does not mean that your commercial property should not be prepared. Alblaster's snow removal and salting services are always ready for unpredictable winter weather delaying your business operations.
We offer guaranteed commercial snow removal and deicing services for your sidewalks, parking lots, entrances, common areas and more to keep your business running smoothly.
Richmond Industrial Snow Removal & Salting
Safe working conditions are a priority for the team at Alblasters, which is why we guarantee fast and reliable removal of snow and de-icing for your industrial property.
We know that it is important for your business operations to keep your loading docks, emergency exits, walkways, and entrance and exit routes cleared of snow and ice, which is why our services are 24/7.
Richmond Strata Snow Removal Services
It is our priority to keep your strata property safe from snow and ice hazards, whether you manage high-rises, apartment complexes or townhomes.
Alblaster's snow removal and salting services guarantee the safety of all your homeowners and tenants and ensure their daily routines are not affected by the unexpected winter weather.
Government Properties Snow Removal Services Richmond
We specialize in government snow removal contracts because we understand the importance of the safety and reliability of your government properties.
Our 95% retention rate shows our absolute commitment to your property ice and snow removal requirements.
It is our priority to ensure the conditions of your property are safe from the hazards of snow and ice for your employees, tenants and customers.
Call Alblaster's Snow Removal and Salting services today to avoid the delays and risks that winter brings.