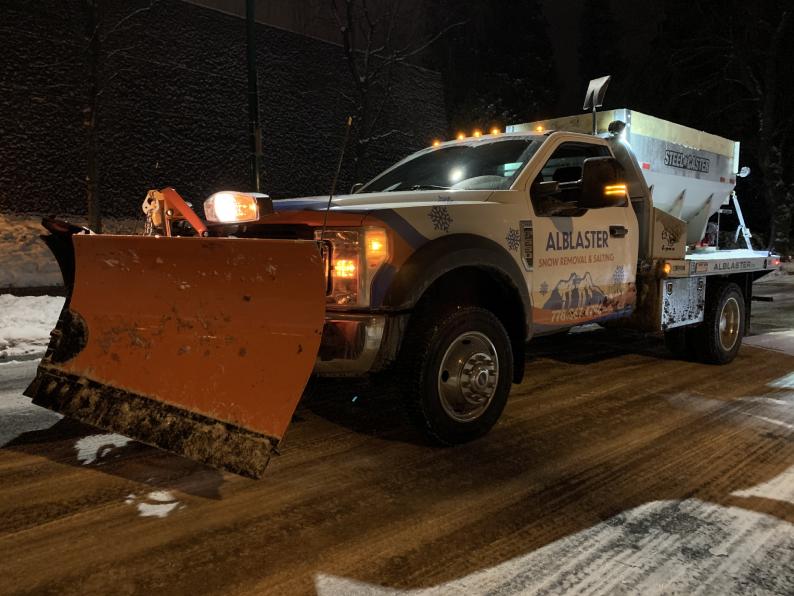 With winter right around the corner, the time has come to start planning and preparing for how your business or commercial property will handle snow and ice removal.
Without putting thought into winter mitigation strategies, your company or organization could run the risk of losing business or even unintentionally getting somebody hurt by slipping on snow or ice.
Lucky for you, Alblaster Snow Removal and Salting has compiled years of experience that now you can rely on to best take care of your winter property management needs. Our experienced and passionate staff are known for superb customer service and will work with you to create the most logical solution to any and all of your snow and ice removal needs for this coming winter and beyond.
Alblaster Snow Removal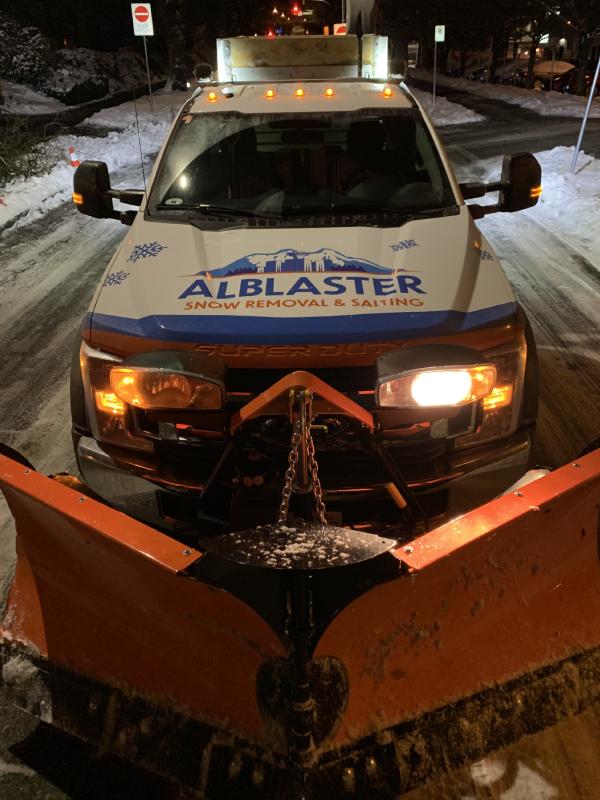 Our experts specialize in snow and ice removal for professional properties and our client list as is diverse as they come. We have reduced winter risks for industrial parks, commercial buildings, shopping areas, churches and community centers, apartments and strata buildings, schools, and more.
This includes snow and ice removal on driveways and pathways, stairs, loading docks, common areas, parking lots or any other space you may need to be cleared.
Neglecting proper winter storm mediation could lead to reduced usage and business, closures, or accidents. As a commercial property owner, preventing this sort of thing should be on top of your priority list.
While you will be leaving the grunt work to us, you can also rest easy knowing we have all the necessary equipment to safely and thoroughly clean your property of any snow and ice hazards or roadblocks. We are well equipped to handle all types of winter weather and pride ourselves using top of the line gear to guarantee top quality service for you.
Further, the staff works tirelessly to properly maintain all of our equipment – which equates to fast and systematic winter mitigation on your property. From plows, trucks, Bobcats, and ATVs to the time-tested shovels and salt, our staff guarantees to come prepared to deal with whatever hand your property was dealt.
Additionally, when it comes to the removal of more stubborn ice patches, we pride ourselves in operating with a keen eye focused on being eco-friendly. We use strictly rock salt for parking lots and calcium chloride for sidewalks, ensuring no damage to your property or negative impact on the environment.
No matter your commercial property, you can trust that Alblaster Snow Removal and Salting has your back this winter, but the best thing you can do now is to start planning ahead.
By working with Alblaster, you can expect automatic clearing when it snows between one and two inches, preventative salting with every ice or snowfall warning, salting after the snow has been cleared, and everything completed to the city's specifications.
Set up a schedule and a regimen with us today, you will have nothing to worry about when the snow starts to fly!