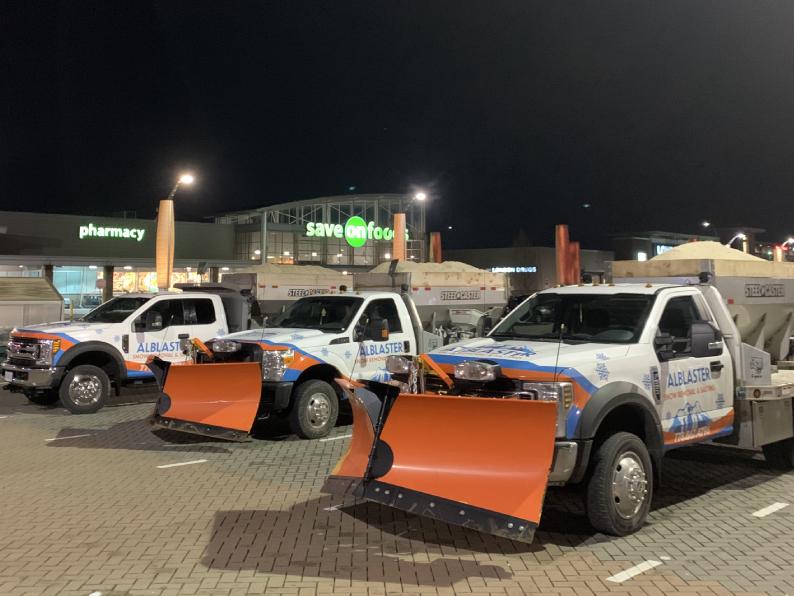 We are hiring Sub-contractors for Snow Removal and Salting for Winter 2020/2021 in Vancouver and Richmond
Alblaster makes our customer's life easier during the cold winter. With three years of quality service, every team member represents our pride and expertise and is always ready to clear the way for in Vancouver and Lower Mainland. When it comes to commercial, strata and industrial property, count on Alblaster for reliable and effective snow plowing and removal.
Timing and timeliness are important when it comes to the onset of snow. We respond quickly and remove it fast, so nobody misses a business opportunity. We never leave our clients waiting and maintain a large team of experienced professionals so that we are always ready to show up and get the job done.
We show up on the job prepared. No job is too big, and no snowstorm is too severe. Our team and our equipment are always ready to go. Once you put Alblaster to work, there is no need to worry about schedules, safe access to and from your property, or adjusting your hours of operation.
Anyone who owns or operates commercial, strata or industrial property will appreciate our fair and friendly service. We are always available 24/7, even when other companies struggle to supply enough salt, the right equipment in full operational shape, or available personnel. We plan ahead of time so that we're always ready for the job.
Our clients love us. That's because we treat their commercial, strata, or industrial properties as if they were our own. We always deliver on our promise, and we genuinely care about them. We also know what we're doing and may even point some things out ahead of time that our experience tells us is worth noting. We realize the value of each client and each job.
We are hiring contractors for snow removal in Vancouver and Richmond.
Are you hard-working, punctual, have a strong work ethic, able to work individually as well as be part of a team? Are you honest?
Pretty basic, right? Well, then, we want to meet you.
We are always looking to grow our team with reliable, friendly, and professional members. If that's you, let's talk.
Please fill out the form below if you are either a contractor with your own equipment or just a hard-working individual looking for work this winter. Soon you can become a member of the Alblaster Snow Removal & Salting family.
We have a great team. They're part of the Alblaster Snow Removal & Salting Team for some excellent reasons. We think you'll agree.
You get paid quickly
Enjoy a trustworthy work environment
Receive fair wages for your work
We are looking for subcontractors with the following equipment:
Bobcat Skid Steers:
Plow Truck Drivers (snow plowing subcontractors)
Salt Truck Drivers
If you don't have your own equipment, it's OK; we are also looking for:
Plow Truck Drivers
Snow Shoveling Crew
Salt Truck Drivers
Alblaster Snow removal Service is committed to building long-term relationships with our clients. We know that as long as we do quality work consistently, treat everyone fairly, and provide excellent customer service, we will build and maintain long-term relationships. We also want to maintain great relationships with our employees and subcontractors, so we treat them with great care. Our company is only as good as the people on our team.
So, if you are a subcontractor who has their own equipment in Vancouver and Richmond, BC, or even if you don't have your own equipment, but you are looking to join a great team this winter, go to the link below and fill out the form: