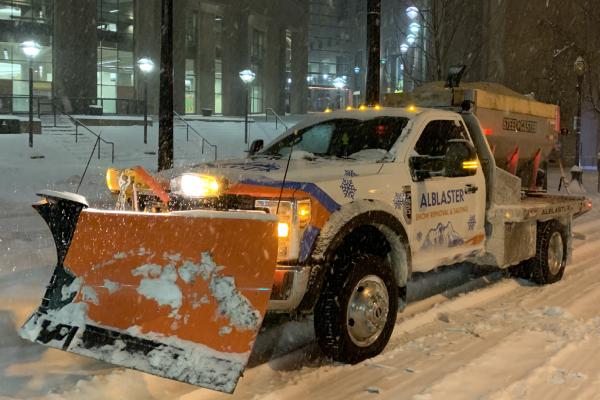 Predictions seem to be suggesting that this could be a particularly cold and snow-filled winter which suggests that it could be time for you to enter into a snow removal contract.
Who is responsible for snow removal?
Regardless of if you own a home or a business, snow and ice can cause all kinds of problems for a property owner. These problems can range from the freezes and melts (which if left untreated can erode your sidewalks, driveways, or parking lots) to the Ice itself (which also presents a clear and present danger to your beloved family members, your valued customers, or your trusted employees).
Unfortunately, this clear and present danger to family, customers, and employees is also a legal danger to your business or home. As the City of Vancouver website explains, there is a general legal expectation that property owners clear the snow every day:  All property owners must clear snow and ice from sidewalks around their property by 10:00 am every day. Failure to remove snow and ice may result in fines.  Learn the rules about snow removal in our Street and Traffic Bylaw (section 76).
But fines and fees might only be the start of your problems. If someone is hurt as the result of a fall because you failed to clear and/or salt your property you could be liable for damages. As the Insurance Bureau of Canada puts it:
"You may be held liable for slips, trips and falls if you don't provide a reasonable standard of care in keeping your property free from hazards."
So, clearing snow and ice is clearly a business necessity so the question is do you want to remove snow and ice yourself or hire professional snow removal services from Alblaster?
What A Snow Removal Contract With Alblaster Includes
Removing snow can be tiring and backbreaking work, especially during a winter where a larger than normal amount of snow is predicted to fall. Don't worry, Alblaster, a premier Snow Removal company with years of experience, has your back.
Alblaster offers snow plowing and snow removal, salting and deicing, and a 24/7 operating schedule which means when you need snow removal services, Alblaster will always be there for you. We clear stairways, sidewalks, driveways, walkways, and when necessary even warehouse entrances. We also use the safest environmental de-icer that will not destroy your ground surfaces.
And we have all of the tools and experience you will need. Take full advantage of our safety-trained crews and fleet of snowplows, bobcats, quads, and salt trucks.
Whenever you are facing winter snow and ice, don't put yourself out just leave it to the professionals at Alblaster Snow Removal & Salting.