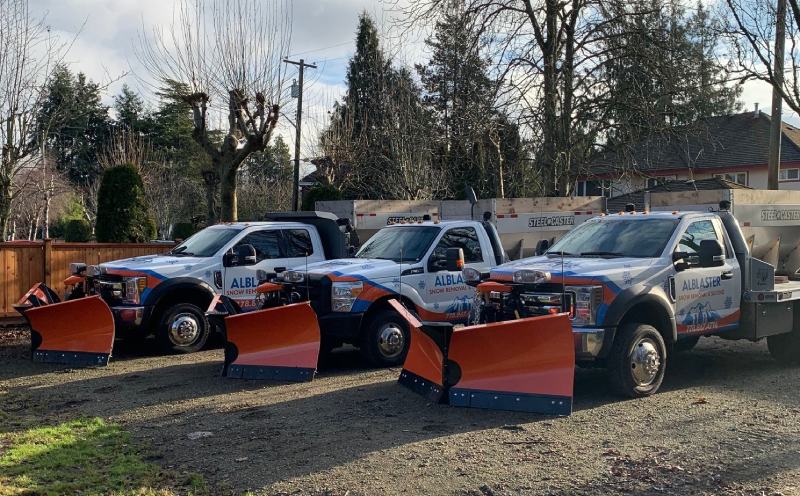 Looking for a Snow Removal Contract in Vancouver, but when is the best time of the year to do so?
The best time to start shopping for a new snow removal contractor in Vancouver is in fall (Sep, Oct, Nov). If you want to get a reliable snow removal contractor locked in for the winter season, you're best off doing it before December arrived. By December, snow removal companies are usually already fully booked.
A seasonal contract allows any business to grow without worrying about hiring a new snow removal crew each time it snows. You can hand off that responsibility to someone else and make sure your property's parking lots and walkways are clean, safe, and free of ice and snow.
It is always a good idea to think less about the contract and more about the company you're hiring. Don't sign any contract until you understand the quality of work completed by the snow removal service.
It's a good idea to get a recommendation from another business and check references.
What are the steps?
Start by knowing what to look for when searching for a snow removal service. A snow removal company is a dedicated professional dedicated to snow removal. This is what they base their business on. Not all companies remove the snow from your premises. Also, some companies may only be doing this kind of work until they are contracted for other types of work and may leave your employ unexpectedly.
So, step one– know what you're looking for. There are basically three types of companies– snow removal companies, snowplowing companies, and snow management companies.
Snow Removal company
These companies don't just plow; they remove snow and haul it away in trucks. They clear and salt sidewalks and pedestrian areas as well.
Snowplow company
These companies provide a similar service to Snow removal Companies, but it is less thorough. They may have their own equipment, but they don't remove snow.
Snow management company
These companies are different animals altogether. These companies subcontract out their work to smaller contractors. Snow management companies are frequently many miles away from a client's property.

Ask for proof of insurance.
Make sure an injury claim is the responsibility of the snow removal company. If they have no liability insurance or can't pay a claim, you'll be next on the hook.
Make sure they are well prepared. Well maintained equipment is important. Their team is also important. Much of this can be found out through referral, but you might ask for a tour or even have them run their equipment for you.
How do snow removal contracts work?
Snow removal contracts, like any other legal contract, can be filled with industry jargon and be confusing. So, you might want to become more familiar with some of the vernacular and get to know some of the basic snow removal terms and conditions.
The Seasonal Snow Removal Contract is very popular in Vancouver. This model shifts responsibility to the snow removal company for making sure that your property is maintained and safe.
Alblaster's Snow Removal Service
Reliable communication is essential for successful service. Go with a company that gives you a good impression of every exchange. When it comes to the onset of snow, timing and timeliness are important. Alblaster is always quick to respond and removes snow fast. We maintain a large team, work quickly, and get the job done.
Alblaster is the Worry-Free Solution

Alblaster Snow removal Service is committed to building long-term relationships with our clients. We know that as long as we do quality work consistently, treat everyone fairly, and provide excellent customer service, we will build and maintain long-term relationships.
Let us come out and take a look now before the weather sets in. Go into this winter with both eyes wide open. The more you know, the more you'll trust us with your snow removal needs.